LinkedIn 'Premium Job Slots'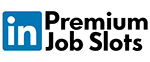 Here's all you need to know about 'LinkedIn Premium Job Slots'!
1. How to subscribe
You'll subscribe to this service in the same way as you would to any other job board. If you're unsure of what to do, please make sure you have idibu administrator access and follow the relevant article below:
If you use idibu's legacy (v2) platform, click here.
If you use idibu v3, then click here.
If you use RDB ProNet and manage your board subscriptions through our plugin, then click here.
2. What's important?
There's a couple of things unique to LinkedIn Premium Job Slots that you need to be aware of to ensure a smooth posting experience!
Firstly, make sure you add your 'Company ID' to the LinkedIn Premium Job Slots settings page within your idibu account. The Company ID can be found in the URL of your company page, (e.g. https://www.linkedin.com/company/123456789). Please note that you must be logged in to Linkedin as the administrator of the Company page to view your Company ID. You will also need to enter your Contract ID established with LinkedIn.
--
Also (and this one's critical to ensure your jobs are successfully published), be aware that every client needs to activate/allow idibu as a 'job posting partner' to access their LinkedIn contract (and post jobs on your behalf).
This link shows you exactly what to do - just make sure you select 'idibu' from the dropdown menu. If you need any assistance here then please contact your LinkedIn rep/Account Manager directly who will be happy to advise.